Making a soy candle has never been easier! 
With this course, you'll gain the basics of this technique by knowing the role of each component and how to choose them according to your preferences
With this course, you'll know:
🍃 A brief introduction to soy wax and how it differs from other waxes
🍃 The role of each candle's component and how to choose them
🍃 How to calculate the right amount of soy wax to use avoiding leftover
🍃 Make two soy candles with two different type of wicks
Course Outline
This course contains the information you need to help you make your own soy wax candles at home. Entire modules dedicated to the different types of soy wax, as well as wicks, containers and additives will give you a good overview of the technique. Module by module, you will acquire the right knowledge to choose each single component with full awareness.
This course also includes some chemical and mathematical aspects on which the candle manufacturing process depends. From the mechanism that allows candles to burn, to the mathematical calculation of the quantity of each ingredient. Important concepts to master to avoid potential waste of raw materials such as wax and fragrances.
Plus, a detailed tutorial to show the steps and crucial points of the entire process of making two soy candles in containers.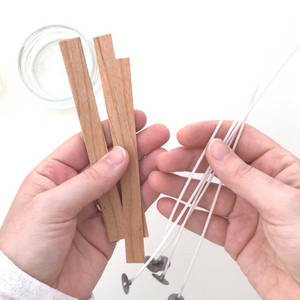 Tools needed
Find out what components are needed to create a candle. Their characteristics and how to choose between different types available on the market.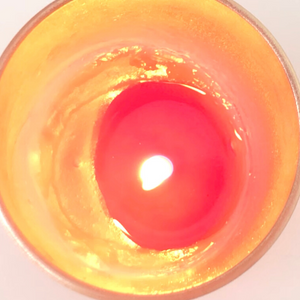 Troubleshooting
How to notice that our candle will not burn evenly? Find out what are the possible scenarios that can occur.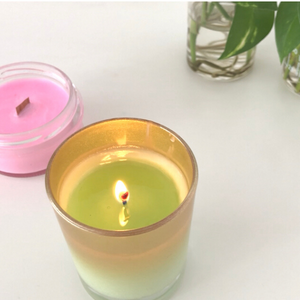 Soy candles
Discover how to make two different candles by playing with the choice of different wicks and containers and customizing them with fragrances and colors.
Review
What students think of the course (about a short version available on Skillshare).
If you are interested in a shorter version of the course, you can access it here. With my referral link you get 1 free month of Premium Membership.
Not ready for a course?
Start with my easy to start guide!
This guide is a course excerpt. It covers the main topics to help you create your candle quickly. From how to choose soy wax and wicks to how to calculate the exact amount of wax and fragrances to use.
PLUS a BONUS for you! An editable pdf to write your recipes directly on your computer.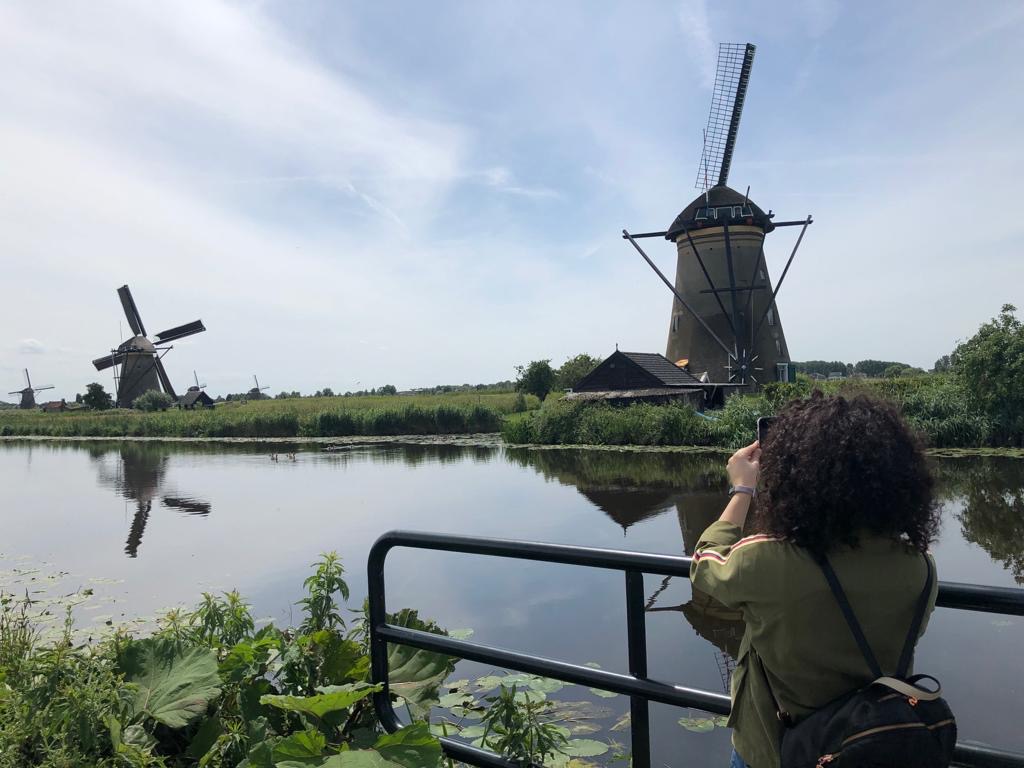 Hi, I'm Gabi
I'm a doctor in chemistry and owner of C6Beauty.com, a Düsseldorf based blog dedicated to the art of zero waste and natural beauty. 
Before dedicating myself to being a blogger, I spent many years studying chemistry and also obtained a doctorate. It was through this education and scientific knowledge that I became passionate about creating my own homemade products. I love to study what's behind every single ingredient and discover its benefits, and I am always happy to share what I've learned!
FAQ
🌿 Who should take this course?
The courses are designed primarily for beginners and those who want to learn more about natural beauty products. The goal is to create a solid foundation from which to build your own products from scratch. 
🌿 How do I enroll in online courses? 
Enrolling in an online class is easy. You'll need to first complete a registration process, clicking the button "sign in" on the top right and enter your name and email. Then click on "enroll" and proceed with the purchase. Remember that it is required to create an account in order to enroll in any courses.
🌿 How long do I have access to the course? 
After enrolling, you have unlimited access to this course for as long as the school exists, including any updates or additional content. 
🌿 What If I am unhappy with the course?
If you are unsatisfied for any reason, it's totally fine! Feel free to contact me within the first 30 days after enrolment and I will give you a full refund.
🌿 Why are the courses sold in dollars?
The school is attended and visited by students from all over the world. Setting the currency in dollars makes the monetary conversion easier and more immediate.
🌿 Is it safe to pay online?
It is safe to pay online. All credit card processing is done by third parties called Paypal or Stripe, leaders in secure credit card transactions.
Interested in soap making, too?



Start with my FREE guide to making soap
In my free guide, I'll break down the main saponification techniques, showing their features and peculiarities. The guide is intended to be a means to help you choose the method most suitable for you and to encourage you to make your first soaps following the recipes that you will find inside.
Sign up below to access your FREE guide to soap making.